Erdoğan: Karabakh liberation to enable 'peace corridors' in Caucasus
President Recep Tayyip Erdoğan called for peace corridors to be established after Azerbaijan's Karabakh victory to further integrate the region and open a new period for the South Caucasus while underlining Türkiye's support
Azerbaijan regaining control of its Karabakh region with the latest operation will enable peace corridors to be established in the South Caucasus that will contribute to peace, development and stability, noted President Recep Tayyip Erdoğan, according to Azerbaijan in Focus, reporting Daily Sabah.
"As a result of the operation, Azerbaijan's sovereignty in the entirety of Karabakh has been solidified. What is more, following a 44-day of defense of the nation, a new window of opportunity for the establishment of permanent peace and stability in the region has been opened. Everyone knows our view that this opportunity must be used. We expect Armenia to show strong will instead of delaying the process," Erdoğan told journalists on his way back from Azerbaijan's Nakhchivan, where he met with President Ilham Aliyev and attended the laying of a foundation stone for a new natural gas pipeline between Türkiye's Iğdır province and Nakhchivan.
"Progress in the Azerbaijan-Armenia process will also give great impetus to regional normalization. We will continue to work with Azerbaijan to establish stability, peace and prosperity in the South Caucasus."
Erdoğan congratulated his counterpart on "the historic success" of the quick military operation, while Aliyev said the region was heading in the right direction thanks in part to Turkish support.
Azerbaijan launched a lightning operation on September 19, retook control of Karabakh and held initial talks with representatives of its ethnic Armenian population on reintegrating the area into the country. Aliyev vowed that the rights of ethnic Armenians in the region will be protected.
"Our aim is to transform these areas into peace corridors. It is not possible to think of corridors where war is still raging. Because if we are to consider both the Zangezur and Lachin corridors as peace corridors, we need to solve this issue without any conflict," he added.
"If we consider a railway here, a train leaving from Türkiye will be able to go to Nakhchivan, through Armenia, to Azerbaijan. If Armenia does not open the way for the train, it will go through Iran. Since views this positively currently, there will now be an opportunity to pass from Iran to Azerbaijan," the president said.
Aliyev is putting increasing pressure on areas in south-eastern Armenia to agree to a corridor from the main part of Azerbaijan to Nakhchivan, which is largely surrounded by Armenia and Iran but has a small border with Türkiye.
"Creating a direct connection through rail and highways between Nakhchivan and Azerbaijan's other regions will strengthen our relations further. Therefore, we will do what is necessary to open this corridor as soon as possible. With the opening of this corridor, a vehicle or train from Baku will be able to reach Kars directly," he said.
He also highlighted that it is pleasing to see positive signals from Iran on the issue.
The Zangezur region was originally part of Azerbaijan, though the Soviets gave it to Armenia in the 1920s, leaving Azerbaijan deprived of a direct overland route to its exclave of Nakhchivan.
Relations between Baku and Yerevan have been tense since 1991, when the Armenian military occupied Karabakh, a territory internationally recognized as part of Azerbaijan, and seven adjacent regions.
In the fall of 2020, Azerbaijan liberated several cities, villages and settlements from Armenian occupation during 44 days of clashes. The war ended with a Russia-brokered cease-fire, and talks for normalization of ties began.
Iraqi Development Road
Another corridor that will lead to peace and development will be the project of an Iraq Development Road. Türkiye and Iraq are working to build a land and railroad transportation corridor from the Iraqi province of Basra to the Turkish border.
"The Development Road project is a project that is comprising us, Iraq and countries of the Basra Guld. However, United Arab Emirates (UAE) President Sheikh Mohammed bin Zayed Al Nahyan has a decisive stance in this regard. At our latest meeting, he suggested to finalize the project within 60 days," the president elaborated.
"Through the project, a route will be created from Iraq to Türkiye and Europe. Therefore, our situation is of high importance. That is why our Transportation and Infrastructure Ministry will be in talks and efforts to realize this work," he added.
The president also indicated that some circles, such as China, Japan, India and the U.S., had some reservations regarding the project without giving further details.
"Some circles are striving to incite conflicts. On the other hand, we will be engaged in efforts on which steps can be taken for solutions. Because this Development Project will hopefully be the first step toward enlightenment, which will destroy all dark centers that have settled down in this geography," the president said.
The road is expected to strengthen Iraq's political unity, territorial integrity, and reconstruction efforts while not differentiating between any elements that make up the country.
US and F16s
U.S. Senator Bob Menendez and his wife have been indicted on bribery charges following a federal investigation into their relationships with a trio of New Jersey businessmen. However, the New Jersey Democrat declared he would not resign on Monday.
"One of our biggest problems regarding the F-16s was U.S. Senator Bob Menendez's activities against our country. Therefore, our Foreign Minister Hakan Fidan will now follow the process closely," Erdoğan said, reminding that Fidan and his U.S. counterpart Antony Blinken met recently in the States.
He said that this situation could be turned into an opportunity. "Not only on the F-16s but Menendez and those with similar stances conduct obstructive activities against us. Menendez getting out of the equation is an advantage, but the F-16 issue is not only linked to him."
"This issue has shown us how important it is to be a self-sufficient country in defense industry. We had the same situation regarding UAVs previously. Then we had the predator problem. We could not get it from our ally despite our need. What did we do? We produced our own UAVs. Now we need F-16s, but at the same time, we struggle to produce our new generation warplane Kaan," he emphasized.
Menendez has long opposed the potential sale of the F-16s to Türkiye, citing issues including Ankara not ratifying Sweden's NATO membership, concerns about human rights and Turkish-Greek tensions.
NATO member Türkiye requested in October 2021 to buy $20 billion of Lockheed Martin Corp F-16 fighters and nearly 80 modernization kits for its existing warplanes. President Joe Biden's administration supports the sale.
Ankara had held out on the ratification of Sweden's NATO membership for months, accusing Stockholm of doing too little against terrorists, mainly the PKK. But Erdoğan said on July 10 that he would forward the ratification to parliament when it reopens in the autumn and leave the decision to the parliament.
"They (U.S.) connect the Sweden issue to the F-16s. We say, 'If you have the congress, we have our parliament.' We cannot disregard our parliament. The Turkish Grand National Assembly will decide on Sweden's NATO membership from now on. When the issue comes to the agenda of the Parliament, we will see together what the decision will be," Erdoğan said.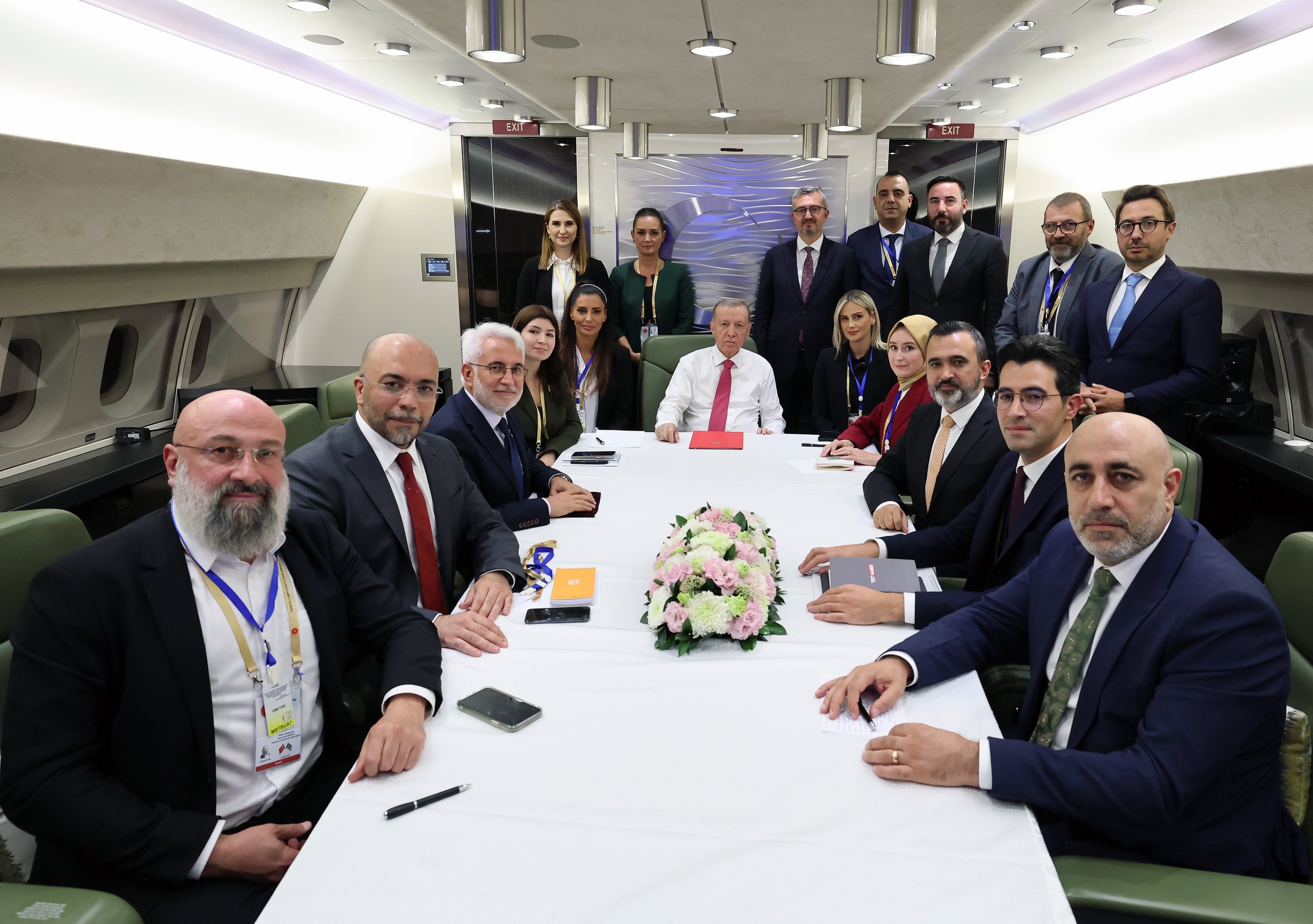 TRNC recognition
On the other side, the president also spoke on efforts for the recognition of the Turkish Republic of Northern Cyprus (TRNC) and a solution to the Cyprus question, to which he reiterated his call during last week's United Nations General Assembly.
"In the upcoming period, there will be a meeting of the Organization of Turkic States. Azerbaijan wants to invite TRNC President Ersin Tatar to this meeting. It will be held in Kazakhstan on November 3rd and hopefully, we will see the Turkish Republic of Northern Cyprus as an observer state," Erdoğan underlined.
"Recognition of TRNC is the best option for all countries that want to ensure permanent peace and tranquility on the island of Cyprus. The realities of the island are obvious and TRNC is the most concrete reality of Cyprus. Those who tried to ignore the Turkish presence there for years have not tried anything," he said.
The president said that Türkiye would raise its voice further in the future for the TRNC's recognition by other states.
"Now is the time to take the right step that will erase all the wrongs. Recognition of the TRNC will compensate for the wrong steps taken by many parties, especially the European Union. The island of Cyprus deserves to be remembered with peace and tranquility, not tensions."
The East Mediterranean island of Cyprus has been mired in a decadeslong dispute between Greek Cypriots and Turkish Cypriots, despite a series of diplomatic efforts to achieve a comprehensive settlement.
Ethnic attacks starting in the early 1960s forced Turkish Cypriots to withdraw into enclaves for their safety.
In 1974, a Greek Cypriot coup aimed at Greece's annexation of the island led to Türkiye's military intervention as a guarantor power to protect Turkish Cypriots from persecution and violence. The TRNC was founded in 1983.
It has seen an on-and-off peace process in recent years, including a failed 2017 initiative in Switzerland under the auspices of guarantor countries Türkiye, Greece and the U.K. The Greek Cypriot administration was admitted to the EU in 2004, the same year when Greek Cypriots thwarted a U.N. plan to end the longstanding dispute.
Energy cooperation
Meanwhile, Erdoğan also mentioned that preparations are underway for Israeli Prime Minister Benjamin Netanyahu's visit to Türkiye, possibly in October or November.
"The Turkish Foreign Ministry continues to work on the date of the visit. I think Netanyahu's visit to Türkiye … will be paid in October or November."
Netanyahu was also expected to visit Türkiye in late July, but the trip was postponed after he had an unscheduled surgery.
Erdoğan said he will travel to Israel after Netanyahu's visit to Türkiye.
"As Türkiye and Israel, we cooperate in many areas. It is a fact that there are new areas of cooperation. Especially Europe is searching for sustainable energy sources with the influence of the conjuncture after the Russia-Ukraine war.
"It is known to everyone that Israel is seeking to transport its resources to Europe. The most rational route is to deliver these resources to Europe via Türkiye," Erdoğan added.
The president added there are also opportunities for cooperation in drilling activities.
Talks on the new Constitution
As the parliament is set to open on Oct. 1, the president also reiterated his call for a new constitution.
He said the ruling Justice and Development Party (AK Party) would meet with other political parties in the parliament to discuss the potential new Constitution.
"I also gave the necessary instructions to my friends. I told our Group President, Mr. Abdullah Güler, 'hold the necessary meetings immediately.' In other words, starting from Oct.1, we will make the necessary emphasis in our parliament speech accordingly and hopefully take the necessary steps. Türkiye must now get rid of the shame of the coup constitution," Erdoğan said.
"Our goal is to produce a constitution that all our citizens can embrace."
Since 1982, the current Constitution, drafted following a military coup, has seen several amendments. The bloody 1980 coup, which led to the detention of hundreds of thousands of people along with mass trials, torture and executions, still represents a dark period in Turkish political history.
The proposed changes focus on the topics of freedom, the right to security, the right to a fair trial, freedom of speech as well and the rights of women and the disabled. The enhancement of these rights and liberties has seen setbacks in the bureaucracy that have prevented these rights and freedoms from being appropriately implemented.
The plan has been prepared in accordance with the observations and reports of the international mechanisms that monitor human rights in cooperation with several human rights groups.