President Erdoğan, AK Party win Turkish elections again
Sunday's presidential and parliamentary polls in Türkiye ended with another victory for incumbent President Recep Tayyip Erdoğan and his Justice and Development Party, according to Azerbaijan in Focus, reporting Daily Sabah, citing the unofficial results as of 2 a.m. on Monday.
Adding another victory to his two decades of wins, President Recep Tayyip Erdoğan dominated the polls in presidential elections on Sunday, according to unofficial results. As of 2 a.m. on Monday, Erdoğan had 49% of the vote. His Justice and Development Party (AK Party) also secured a high number of seats in the simultaneous parliamentary polls.
Addressing his supporters after midnight at the AK Party headquarters in the capital Ankara, Erdoğan said they were waiting for the "outcome of the national will," but they had a "clear lead, though unofficial results have been announced." Erdoğan had secured 49% of the vote as he spoke according to the initial unofficial results. "Türkiye has proven once again that it is among the world's leading democracies with its commitment to superiority of national will, freedom of its citizens in their political choices," he added.
"We believe that we will win this election with more than 50% of the votes," Erdoğan also said.
Erdoğan and his main rival, Kemal Kılıçdaroğlu, did not secure more than 50% of the vote, setting up a runoff vote scheduled for May 28.
After an uneventful vote that ended at 5 p.m. local time, a tense night prevailed in Türkiye as ballot boxes were opened. The opposition bloc of six parties repeatedly opposed the vote count, claiming their candidate Kılıçdaroğlu was ahead of incumbent President Erdoğan. They contested the official results and cried foul over results announced by the public news agency Anadolu Agency (AA).
Both Erdoğan and Kılıçdaroğlu called on their supporters to remain vigilant at the venues where votes were counted, "to stand guard at the ballot boxes."
In the early hours of the vote count, Erdoğan criticized the opposition parties for claiming they were leading in the presidential and parliamentary elections while the vote count was still underway. Erdoğan slammed what he called a "robbery of political will" by the opposition in a tweet late Sunday. His statements came amid allegations from the opposition that the vote results were manipulated or delayed and amid pro-opposition media outlets publishing their own results. "The May 14 elections were held in peace and have been a festival of democracy. It is a reflection of Türkiye's democratic maturity. As we carried out the elections in such a positive and democratic atmosphere and as the votes are still being counted, rushing the declaration of the results means robbery of political will," he said. Erdoğan said he was pleased with the reflection of the nation's will in the ballots and urged his supporters to stay at the venues where ballots are being counted.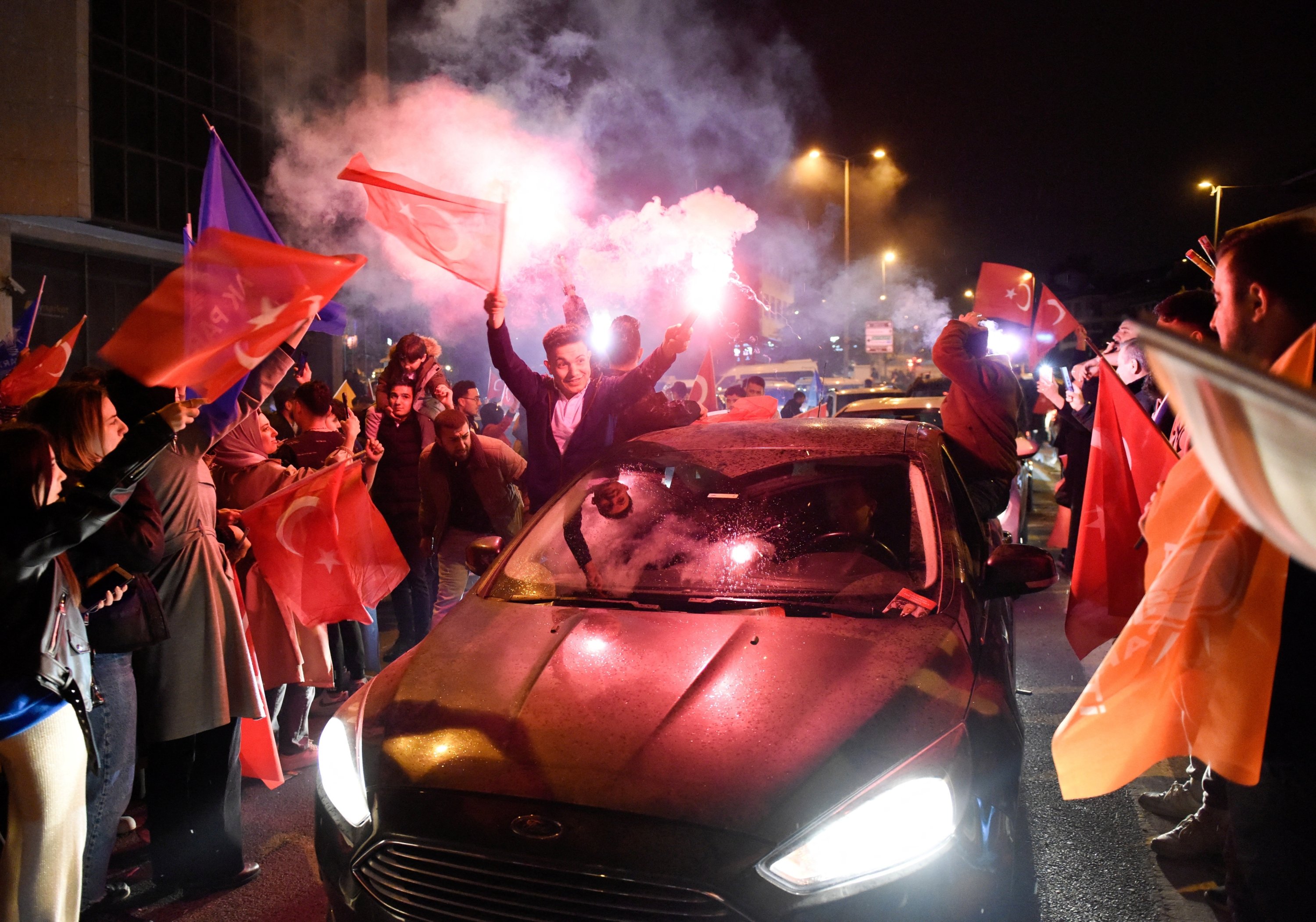 "Some people are in the kitchen and here we are, on the balcony," Erdoğan told the vibrant crowd. A "Balcony speech" is a tradition of Turkish politicians emerging victorious in the elections. Erdoğan had earlier mocked Kılıçdaroğlu for shooting videos in his house's kitchen, instead of embracing people on the street.
"Our country wrapped up another festival of democracy. It seems like the count of votes across the country and abroad will take a little more time," he said. "We are unlike those trying to deceive people. We know we have a clear lead but we await the manifestation of national will since official results are not clear yet," he said.
The president thanked "brothers and sisters" who voted for the People's Alliance. "The winner is, undoubtedly, our country, our nation. Türkiye once again proved it is among the world's leading democracies thanks to its adherence to the supremacy of national will. We proved it through a record turnout. It is unique in the world. This is the highest turnout in our history," he highlighted. He said statements of CHP administrators and "some mayors" did not change this fact. "In our political life, we have always respected the national will and we will do so in future elections too. The People's Alliance knows what to do, and we expect the same democratic maturity from others," he said.
"We have 2.6 million more votes than our closest rival and I believe this will be far higher. We don't know if it is going to a runoff, but we will gladly accept it if our nation decided for a runoff; yet, we believe it will end in the first round," he said.
"Not having official results does not change the fact that we have a clear lead. Those who have seen the elections will tell the future generations the political climate Türkiye went through to reach the 'Century of Türkiye,'" he said, referring to his ambitious vision for a series of reforms and economic development. "They will see this as a saga of the nation's will," he said.
Supreme Election Council (YSK) head Ahmet Yener announced that 91.93% of the ballot boxes were opened as of 2:25 a.m. on Monday. He said 36.85% of the ballot boxes from overseas were opened so far.